Cycling in Sardinia, guided bike tours and cycle excursions for families
Road cycling, mountain biking and cycling holidays
Sardinia is rapidly becoming a paradise for cyclists. Our island offers, also here in the North / Northwest (Valledoria / Castelsardo and vicinity), countless routes of different natures and levels of difficulty.
Our place Valledoria and the surrounding area offer ideal cycling conditions for everybody and also to who wish to organize professional cycling tours. The central position of our locality in the north of Sardinia allows you to reach easily the most beautiful places.
In Europe, there are only a few areas, such as ours, in which one will find so much beautiful nature places (sea, mountains, valleys, plains, rivers, lakes and hot springs) and so many countless eyewitnesses to visit, like castles, churches, cathedrals, temples, nuraghi, museums, giant' tombs, petrified forests, 5,000 year old olive trees, and much more.
Both, families as well as ambitious cyclists, will find wonderful cycling tours, which run through the picturesque
landscapes. Thanks to the Mediterranean climate you can also do long bike rides during the warm autumn and mild winter months. Not to forget the flowery, vast landscapes during the warm, Sardinian spring. Even mountain bikers will enjoy the multiplicity of MTB tracks. It is quite easy to combine riding on natural trails with a beach holiday.
Our dream island Sardinia offers a unique opportunity to plan for both, cycling breaks and active holidays, 12 months a year. Especially our area, in the range of only 10 km, pampers its guests with a wide range of sports: canoe trips on the Coghinas, surfing and sailing school, diving centers, trekking, walking, hot springs (with swimming pool), paragliding, horse riding and much more ...
In addition, our area is rich in beautiful beaches, typical Sardinian villages, Sardinian style of life and witnesses of more than 5,000 years old history.
Cyclists can enjoy a very good network of roads, which allows a varied range of tours. Beginners, recreational athletes, families and ambitious cyclists or mountain bikers will be spoiled for choice. We have already created an interesting selection of tours for you. Of course, we can create additional tours on-site.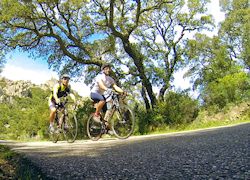 The fascinating nature attracts its visitors quickly into its spell. The charming landscapes are very varied. Because of this diversity in a confined space, in the literature, Sardinia in the literature is often mentioned as a small continent.
One has the choice between free (do-it-yourself) or guided tours. We offer (on request) guided bike tours throughout northern Sardinia, planned by professionals. The guided tours are organized in cooperation with Bella biking.
The bike tours in Sardinia - also the participation in guided tours, with private or rented bicycle - are carried out at your own risk. In addition, it is strongly recommended to wear a bicycle helmet (required during guided tours).
We provide our guests with high-quality, top-maintained bicycles and electric bicycles available (recommended previous ordering). We also offer a bike repair shop.
We assist our guests at any time.
Our accommodations
Prices / Offers
Price list
Early booking / Early bird
Last minute
Easter offer
Spring offer
Booking / Requests
Booking
Request information
Biking / cycling tours
Cycling & biking tours
Special offers for cyclists
Bicycle rental
Special bicycle tours
Guided bicycle tours
Green Tourism
Eco-Tourism in Sardinia
Environmental education
Sustainable holidays in hotel
Activities & Sports
Sailing / sailing school
Canoeing
Other water sports
Biking & Trekking
Our region
Valledoria / La Ciaccia
Where are we?